15 Ecommerce Tips To Boost Sales For Your Small Business
Of course we all want more sales and revenue in our small businesses!
Whether you have an e-commerce store like Shopify, a standalone website that sells services or products, or you operate from a marketplace platform like Etsy, your goal as a small business owner is to make money so that your business remains alive and well, and you change your life financially now and for the future.
In this blog post I share 15 ecommerce tips to help you boost sales for your small business – no matter which platform you sell from.
You can also dip in to this post where I share 15 Proven Tips To Make More Sales In Your Small Business, and it's worth a read, because the more you learn about effective selling, the greater the chances are that your business will survive and thrive.
Let's move on to look at 15 Ecommerce Tips To Boost Sales For Your Small Business.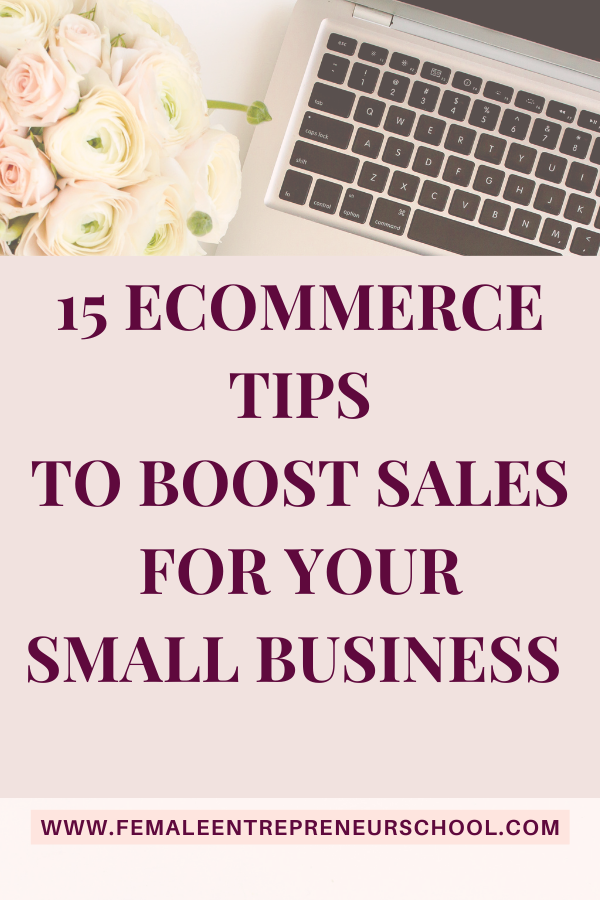 1. Know Your Target Audience and What They Want
Understanding who the audience is that you want to serve in your small business, and knowing what your audience's needs and preferences are, should be your top priority.
There's simply no benefit to stocking your ecommerce store full of products or services that your target audience is not interested in, because those products fail to meet their needs.
When you know your customers well, you can tailor your products, services, messaging, and overall approach to meet their expectations.
Often when female small business owners start their online journey, they bring their passion to their online business, without taking time to consider who their passion best serves.
Knowing your target audience is a powerful tool to help you identify who your people are, what they're struggling with, and how you can craft great products to go in your e-commerce platform that gives you a much greater chance of making sales, because you're creating and selling products that meet your customer's needs.
The more you can learn about your target audience, the more you can identify revenue models and product ideas that are much more likely to sell.
Think about who you target audience is. Are they male? Female? What age are they? What sort of disposable income do they have? Are they employed, self-employed, stay at home mums?
What is they're looking for when they're shopping online – how can you meet their needs through the products and services you sell on your e-commerce site?
If you need to learn more about how to become more familiar with who your target audience is, I have a great blog post 'Do You Know The Avatar Your Small Business Serves?' that you can access and read here.
The small businesses who learn as much as they can about their customer base, and then create products and services to match their customer's needs, are the businesses who sell more.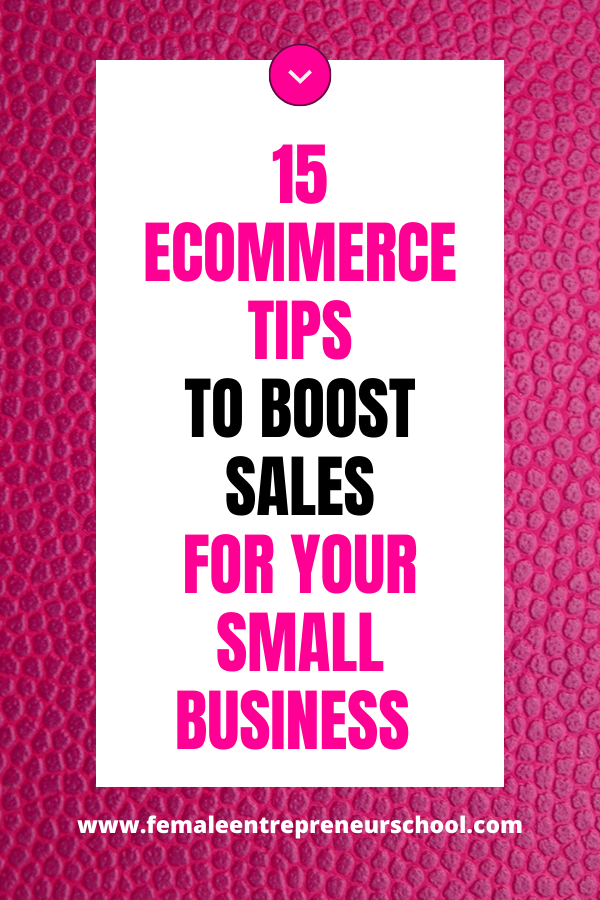 2. Craft Messages to Speak to Your Customers' Wants and Needs
Once you understand who your target audience is, and you're able to identify great ideas for products you can sell to those people, it's really important that you start to craft compelling messages that resonate with the desires and pain points your customers have.
This is crucial, because effective communication through your sales messaging, your social content messaging, your product messaging, your email messaging, will be the thing that helps to ensure your customer connects with you and your small business.
When they read messages from you that make them feel you know them better than they know themselves, they'll connect to you and they'll buy.
It's a good idea to start to keep a note or spreadsheet (in Microsoft excel for example), where you can list all of the qualities you know about your customers' wants and needs, so that you can use that information to start to speak to them in a way that really resonates with them.
Over the long run this will help your target audience understand that you know them and what they want exceptionally well, and that will help them make a decision to buy from you.
3. Make It Easy for People to Buy
Streamlining the buying process and ensuring a user-friendly website or platform is essential.
If you make it difficult for customers to make a purchase from you, they may abandon their carts.
In fact all of the business processes that your target audience has contact with through your small business should be as user friendly as possible.
This means providing your customers with the easiest way possible to find and check your products, and to check out and pay for your products, without them having to go through a lot of hoops to do so.
It also means that running your business purely on social with a 'dm me to buy' or 'dm me for commissions' is not enough.
Many people won't take action with you that way.
You need a decent looking website, with your products/services listed clearly and easy to find.
You need product descriptions that connect with the pain points and issues your target market has, and/or the solutions they are looking for.
Make it easy for people to understand what it is you do, how much you care about them, and how simple it is for them to purchase any of your products or services.
Remember too, that most people are scrolling the internet on mobile devices, so wherever you are visible – make sure you are mobile friendly in those places.
4. Great Customer Service
Excellent customer service plays a significant role in retaining customers and encouraging repeat business.
Happy customers are more likely to become brand advocates.
Your ecommerce business will benefit from you putting your customers first, and them knowing this is the case.
One of the biggest mistakes I see small businesses make is ignoring current customers in favour of constantly chasing down new ones.
Try to have in place processes to record your customer names, so that when you send emails or messages to them, you can address them personally – using their name.
Make sure they have a positive customer experience with you every time they make a purchase.
Keep customers up to date with purchases through emails and messages that confirm what they have bought, provides them with shipping information, and lets them know their custom is of real value to you.
Do not let people purchase, and then ignore them. That is a sure fire way to prevent rapid growth, lots of sales, and happy customers in your small business.
5. Visibility on Social and Sharing on Other Platforms
It's a great idea to figure out where you're going to be visible online, to help bring your target audience to your ecommerce store.
The good news is there are plenty of social media platforms and other places you can be visible organically, without the need to pay to drive traffic to your ecommerce platform.
Building an active online presence and sharing your content on relevant platforms can increase brand visibility and attract new customers.
One of the best ways to be visible online to bring your target audience to you, is to take some time to figure out where it is your customers spend most of their time.
For example, you might find that your audience loves reading, and that they spend a lot of time searching for and absorbing blog posts. That means that having a podcast to raise your visibility might not be the right space for you.
Your marketing strategies need to include researching where your target audience hangs out, and then having a marketing plan to be visible in any of those spaces in a way you can manage consistently.
If your target audience is 18-30 year olds, the chances are they are more likely to be on social networks like Tik Tok, rather than on Linkedin.
If your target audience are creative ladies, they're probably going to be spending time scrolling Pinterest, rather than absorbed by Tik Tok.
It's really important to have visibility to be able to market your business to your target audience, but you need to be visible on the best platform your know your audience is invested in.
Take some time to figure out the best platforms to show up, and make a decision to be visible only in as many spaces as you can reasonably manage and stay consistent with every day.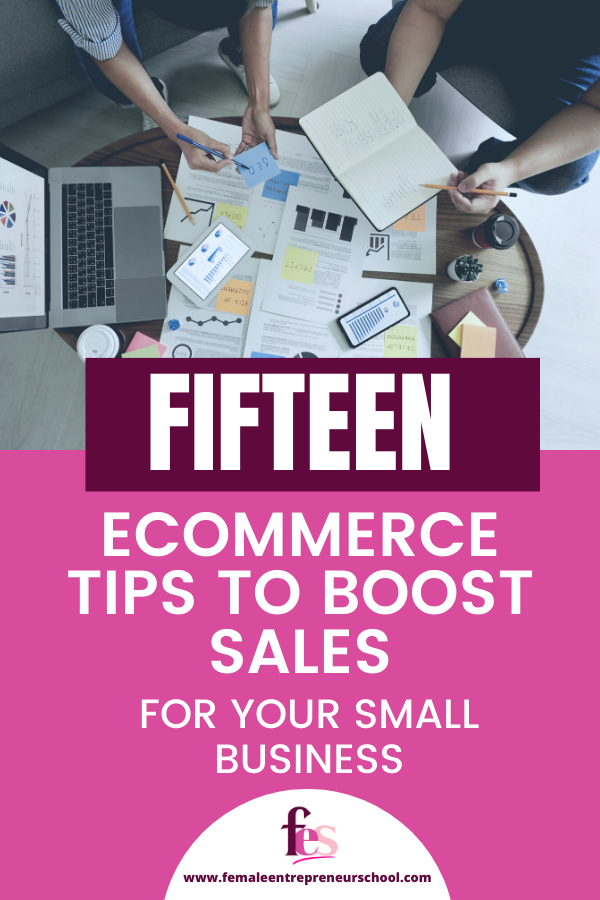 6. Have Good, Noticeable Branding
Strong branding helps your business stand out and become more memorable to potential customers.
It contributes to brand recognition and trust.
If you're showing up with an e-commerce business model that's messy and inconsistent, it'll impact your success and ability to make more sales.
You need to have brand consistency across all of your platforms.
This means the same sort of messaging in all the spaces you're visible, the same brand colours, the same brand look, the same brand visuals, even the same brand of you.
Branding is much more than a fancy logo, a nice font and some colours.
You have to have a brand identity that people recognise right across your small business.
This helps reinforce that you're a professional ecommerce business with good marketing materials, great content marketing, branded social media marketing and more.
When people feel you're a professional e-commerce outfit rather than a small business owner 'winging it', they're much more likely to make buying decisions from you.
Stock take your entire brand identity. Are there gaps? Does your brand look inconsistent across different platforms? Are you yourself not a good enough reflection of your brand (for example selling make-up but showing up messy and unkempt in your business).
Pulling all of your brand together to create a good cohesive business is a great way to show up and say 'I'm here. I'm professional. I know what I'm doing. I have some great products for you."
When you do this it will help you sell.
7. Get Reviews and Testimonials
Positive reviews and testimonials can build trust with other potential customers. They often play a vital role in the decision-making process.
When I started one of my first businesses way back in 1998, I grew that business to a really successful (offline) business through nothing more than customer reviews. I never had to advertise.
The customers kept on coming off the back of the level of service I provided and the best results I got for other customers who then passed my name and details to other people they knew. (This was for a personal training business).
Fast forward to today and Female Entrepreneur School, the same has happened.
My business has grown pretty much organically to date. I've not paid lots of money for ads. I'm not on social media 5 hours a day trying to go viral, burning myself out.
I make sure that any female business owner who purchases any of my products or services receives the best service from me, to ensure top level customer satisfaction.
Because I make this a priority, those ladies are happy to give me reviews and testimonials that I share across my brand, but on top of that, they recommend me and my business to other female small business owners.
It's a regular occurrence that I'm contacted by female entrepreneurs who have heard about me through another female small business owner, and they want to become part of my community.
My small business has become consistently profitable as a result of giving the best service to my target audience, who then go on to recommend me to others.
I highly recommend capturing as many reviews and testimonials as you can. They help add credibility to you and your brand.
Make those reviews and testimonials visible anywhere you can on your e-commerce site.
On top of that – give great customer satisfaction to every one of your customers, so that they start recommending you to others too.
This can significantly impact the growth rate of your small business in a positive way, resulting in you making more sales in your daily business life.
8. Multiple Payment Methods
Offering a variety of payment options for your products and services accommodates different customer preferences, reducing friction during the checkout process.
Your target audience will not all be the same.
Some will want to pay by paypal. Some will want to pay by credit card. Some may not be able to pay in full immediately, but are desperate to buy your products and would love a payment plan.
Having multiple payment options available for your products and services can increase the amount of sales you make, and ensure your ecommerce business is designed to suit the needs of your customers.
When you do this the chances are your customers will continue to make purchases from you, because you're giving them the flexibility they need to keep spending money on your ecommerce platform.
9. SEO on your eCommerce Platform
Ensuring your ecommerce platform is optimized for search engines and user experience is important.
It's not the entire strategy, because the other tips here in this blog post are important too, but having an understanding of search engine optimization for your ecommerce store can be really important.
Think about it like this. The vast majority of female small business owners might find the idea of SEO so daunting, that they never go near it.
And yet, it can not only be learnt for your ecommerce platform of choice, it can also help you rank for SEO, if you go the route of learning how SEO works on your platform – so that your small business is more easily found than your competitors.
However daunting it may seem, making sure you have good SEO on your platform is important, so much so that if you can't do this yourself, it's worth investing in a good SEO expert to optimise your ecommerce platform for you.
Let's take Etsy as an example.
You may have your ecommerce store there.
Many Etsy sellers will show up and throw listings out, hoping that their target audience will show up and buy.
But Etsy has an algorithm (it's own internal SEO if you like), and if you fail to accomodate that algorithm, the chances of you making any level of great sales on that platform is slim.
So right across your Etsy store (not just on your listings), you have to have some idea of SEO, and put good SEO into your store.
This means having good keywords in your shop announcement, in your 'about you' section, in your shop's title, in your product listings, in your shop updates, in your shop policies, in your FAQs and more.
You need to take time to find high converting keywords in Etsy that are longer-tail keywords, and of course you need to make sure that all of your product listings, your shop, shop announcement etc., resonate with what it is your target audience are looking for.
That's not the sum total of Search Engine Optimisation for Etsy – but if you're failing to even start learning SEO for your Etsy store, the chances of you making plenty of revenue from that platform is slim.
The same applies to any other ecommerce platform you're trading from. Learn SEO. Apply it. Get found. Make sales. Period.
10. Bundle Selling
Creating product bundles can encourage customers to purchase more, increasing your average order value, and it's worth thinking about the different ways you can bundle products together.
You may be able to create bundles of products in your e-commerce store, you might be able to offer additional products at checkout to entice people to purchase more, you may be able to offer extra products after customers check out through an email sequence.
Your goal is to make your ecommerce business profitable, to make as many sales as you can, and to try to raise your average customer value (how much each customer spends with you).
In addition, you need to make sure that when you do bundle products or services together, you still have sufficient profit margins in those bundles to make them worth offering in the first place.
Bundles can be made from the same product line, or complimentary product lines, but all ecommerce entrepreneurs should be making the most of any opportunity to encourage customers to go from making a single unit purchase, to a bundle purchase instead.
11. Free Shipping
Offering free shipping, when feasible, can be a powerful incentive for online shoppers.
It can reduce cart abandonment rates.
You have to be careful with this.
You don't want to offer free shipping, and it impact your profit margins.
Your ecommerce business needs to succeed, and to bring enough revenue and more importantly profit into the business to make it stable for the longer term.
Often you can add shipping costs to the retail price of your product or service, so that the cost is covered within the price of the product itself.
This can work better for customers to make buying decisions when they feel they're not then paying shipping on top of the product price.
There's no reason not to do this. You (should) be covering the cost of materials and your time invested in the product, adding shipping into the retail price is following the same format.
12. Passive Income Streams
Developing passive income streams, such as subscription services or digital products, can provide a consistent revenue source that can not only help increase sales and revenue, but can stabilise your small business financially, whilst you have more freedom.
A good example of this is selling digital downloadables on platforms such as Etsy.
The best thing about passive income streams is that, for example, in the case of digital downloads, you can create them once and just leave them to churn out.
Passive income streams can include online courses, digital downloadable templates, e-books and guides.
Subscription services can also increase sales and revenue, giving you some idea of the revenue you can expect in to your ecommerce business month on month, although these types of income streams generally require more maintenance than passive income streams such as digital downloads.
Passive income streams can put you in profit quickly in your ecommerce niche, because other than the time invested in first creating the product, there's little time invested after, other than to keep listings and product information up to date, answer questions from buyers, or potential buyers.
The need for wrapping, packing, and shipping stationery, and time invested is taken out of the equation, as is the need to keep stocks of products sitting on shelves.
No matter the ecommerce business you have, there will be a way to create passive income streams to increase sales and revenue to your business, and I'd highly recommend taking some time to think about how you can do this to increase sales and revenue in your ecommerce business.
13. Managing Platforms and Keeping Them Up to Date
Regularly updating your website and platforms is important for security and usability, but may also have a direct impact on sales.
No matter what platform you operate from, there will be an algorithm crawling that platform, keeping an eye on what you do.
If you have an Etsy store for your ecommerce business, Etsy's algorithm will constantly look at your store, and the activity going on in there, to identify where to rank your shop.
When you make a consistent effort to be inside your store providing updates, listing new products, offering sales, updating your shop announcement, your about you section, your banner and more, Etsy will recognise that your store is active, and that you're invested in it.
This will help you rank on the platform.
The same applies to any website you have – Google will rank those websites that are active and kept up to date, over those that aren't.
In addition your customers/potential customers are savvy. They'll very quickly recognise a site that is old and stale.
Invest time in making sure your ecommerce store is kept up to date, with no broken links, accurate information, and easy customer journeys.
14. Become the Go-To Expert Through Learning and Obsession
While becoming an industry expert is valuable for long-term success, it may not have an immediate impact on sales compared to the other factors listed here in this blog.
However, that doesn't mean you should not invest in learning how to become a better version of you as a small business owner, or learning how to do business better in the online space.
Without doubt one of the key things that gives me an advantage as a business coach is the level of learning I invest in every week.
That learning enables me to provide the ladies in my community with a vast amount of support and knowledge sharing – that in turn benefits them and their businesses.
Great business acumen is a must, but so too is your own personal development as a small business owner.
Learn the skills you need to learn, learn the platforms – inside and out – that you want to be visible on, learn as much as you can about digital marketing, social media marketing, email marketing, and any other marketing strategies you can.
At the core of your business success is the ability to market and sell your products and services. You are the marketing and sales CEO of your ecommerce business – it's hugely important to learn the art of marketing and selling well.
15. Email Marketing
Last but by no means least, effective email marketing for your ecommerce business can mean the difference between struggling as a small business owner, or having a community of people ready and willing to buy on repeat.
Email marketing – when done well – still outperforms any other type of organic selling.
This is why you'll see all the big players out there in the online space with mailing lists they keep active and engaged.
I highly recommend that if you have not yet done so, you bring email marketing into your businesses today, and make growing and engaging with your mailing list a key priority in your own small business and part of your business plan now and for the longer term.
If you need to learn a little more about email marketing I have some great blog posts you can dip in to, which here:
How To Drive People To Your Mailing List From Social
Where To Start A Mailing List For Free In Your Small Business
Why You Need A Mailing List In Your Small Business
When you're ready to go deeper, to take your small business to greater success in the online space, to become unstoppable in your small business, maximise your results and limit daily stress, anxiety and struggle, start by choosing one of my free small business guides below (note: you should choose them all – they each have great value packed inside!).
Jenny