Mailing List Tips To Help You Grow Your Small Business
Those of you who know me well, know that I'm always encouraging you to set up your mailing list in your business as early on as possible.
A reminder why this is important:
Your mailing list is a safe place to capture the details of your tribe. It's an asset you own. And unlike social accounts and marketplace platforms, you don't bear the risk of your list being shut down or taken away from you.
As your list grows, and you work hard to build relationships with your list, it'll become the main place you sell your products and services. Period.
So here are a few mailing list tips that I thought you might find useful once you've got your mailing list set up, and you need to start to get subscribers on it.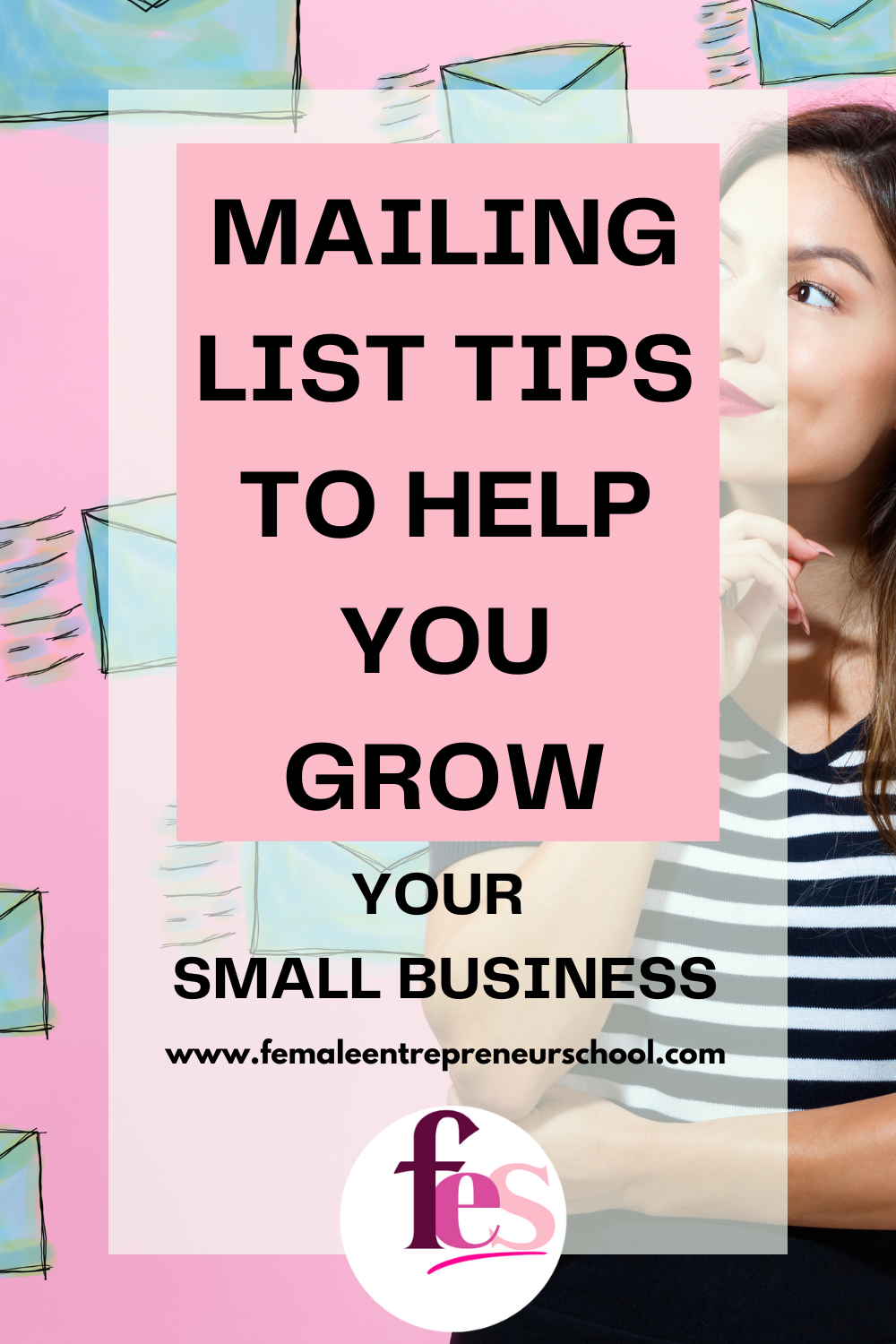 You'll need an opt-in to encourage people to join your list. The way to do this is to have some sort of  freebie of value that you'll give to people in return for them hopping on your list. You can set this up by having an opt-in box to your mailing list on your website, or you can set up a one page landing page for free in Mailchimp or Klaviyo where you direct people to with a url so they can pop their details on the opt-in on your landing page, and they are then added to your list. All of this can be done for free inside Mailchimp or Klaviyo.
You should then show up everywhere (social platforms, podcasts, blogs etc) and promote your freebie to encourage people to join your list. This should be a continuous 'to do', not something you do just once. Your audience need to have visibility of the opportunity to join your list regularly. Build this into your social media strategy, your podcast/blog/YouTube strategy to keep your opt-in in front of the people who follow you.
When you have just one person on your list, you need to make sure you start sending regular emails out. At the bare minimum you should be sending one Newsletter a week to your subscribers. It's a good idea to send your Newsletter at the same time on the same day each week so your subscribers get used to seeing your newsletter land in their inbox at a regular time. Remember the peak time most people open their emails is before 10am. Something to consider when deciding the time you'll send yours out.
Many business owners have zero strategy when it comes to sending newsletters to their list. They send them out here and there, often with large time gaps between each one sent.  Those large gaps do not help to build a solid relationship with your subscribers.
Sometimes the reason business owners don't have a regular newsletter routine is that they find it hard to write newsletters. What to write about, how to make newsletters more engaging, how to not make them all salesy. It's also much easier to focus on social and post content whilst ignoring your list. 
However, when you have a following on social – the goal with those followers is to drive them to your list as quickly as you can. Once you've done this, you do then need to focus on building deeper relationships with your list by sending regular, engaging, valuable, interesting newsletters to them.
Lots of business owners struggle to come up with content ideas for Newsletters. They overthink this. And it stops them in their tracks.
One tip to help you get regular emails out is to go look at all the content you've put on your social feeds, then take some of that content – especially the content that has had great interaction – and turn it into a longer piece of content you send to your list.
For example. If I put a piece of content out on Instagram that's a short video showing people how to use QR Codes inside Canva, and that piece of content has better interaction than other content I put out the same week. I can take that piece of content and turn it into a longer form newsletter to send to my list. 
I can talk about why QR codes can be so useful, where to use them in your business, how to set them up in Canva for free, and I then have a useful, informative Newsletter I can send to my list.
There's so much content you'll have dropped on your social platforms that you can turn into newsletters. All you have to do is take some of that content and expand further on what it was you said on social so you're giving MORE to your list to build better relationships with them.
People are nosey. They also want to know about you and your journey. They want behind the scenes, you talking about the challenges you've faced, why you started your biz, your plans for the future, how women can be an awesome force in business, how building your business helped you overcome anxiety, financial worries, or living the hated 9-5.
There's nothing you can't share in your emails – because your goal is to allow your list subscribers to get to know, like and trust you more. 
The top books you're reading right now, something funny that happened, your views about life and business.
If all you're doing in your emails is promoting yet another product, your subscribers may quickly become bored, stop opening your emails, or unsubscribe.
If you're writing about something unexpected in each of your newsletters (a giveaway, a poll, a story about something that changed your life, how someone hated on you in social and what you did, how your supplier went bust and how you overcame that, when you helped a client and the result they got, somewhere unusual your product was displayed, how you got featured in………) your list subscribers are more likely to open your email just to have a nosey at what you're talking about today.
The subject lines you use for your emails are super important.  They need to stand out.
So instead of:
'Latest product in stock".
I'd have:
"This nearly crushed me".
I'd talk about how "I've launched a new product, but omg the journey to that launch was tough because of all these challenges along the way that nearly stopped me in my tracks, but I got my head down and powered on through and felt elated when I overcame all the barriers and put this latest product out in to the world, and tell me – what do you think?  What colours should these come in?  Should I sell them as single units or more – hit reply to this email and give me your thoughts"
Can you see how I used a great subject line, morphed it into a story and journey I went on, and then, instead of trying to sell the product, I've asked my list to tell me what they think of the product.  It means I'm involving them in the process, and that can be a great teaser to tempt them to buy…
Subject lines MATTER.  You need to get creative.
Some of the best subject lines in my emails have been:
When I took my mum to buy a rubber dress.
My 100 year old granny and the stripper.
If Donkeys Do It So Can You.
Those emails all told stories. Stories about my life, about life and business in general, but they all related to growing a business in the online space..
So there are a couple of takeaways here.
Firstly.  When you have just one person on your list, you need to start sending a regular email out.
Bare minimum should be one Newsletter a week.
I encourage you to send that email on the same day at the same time each week, so that people get used to this.
Take great content from your social platforms and make it into longer form content you can send to your list. Expand on that content. Give more. Your subscribers need to be treated better than the people on social.
Create great subject lines that stand out.
Tell stories and take people on journeys with you in your emails.  Make them interesting, engaging, funny, shocking, challenging so that your emails stand out from the sea of other emails they get to their inbox.
And finally the other tip I want to offer up.
Plan your emails in advance.  
This gives you time to think about great ideas for your newsletters, to get them written in draft form, and have them scheduled ready to be sent out on specific days over the course of the next month.
Pre-planning newsletters means they go out on time, regularly, with great subject lines and interesting and varied content in them. If you leave your Newsletter writing until the last minute each time, trust me, you're going to find it harder to come up with great ideas for them.
Your newsletters are like any other content you post. They need to be dropping in people's mailboxes regularly to keep YOU in their minds.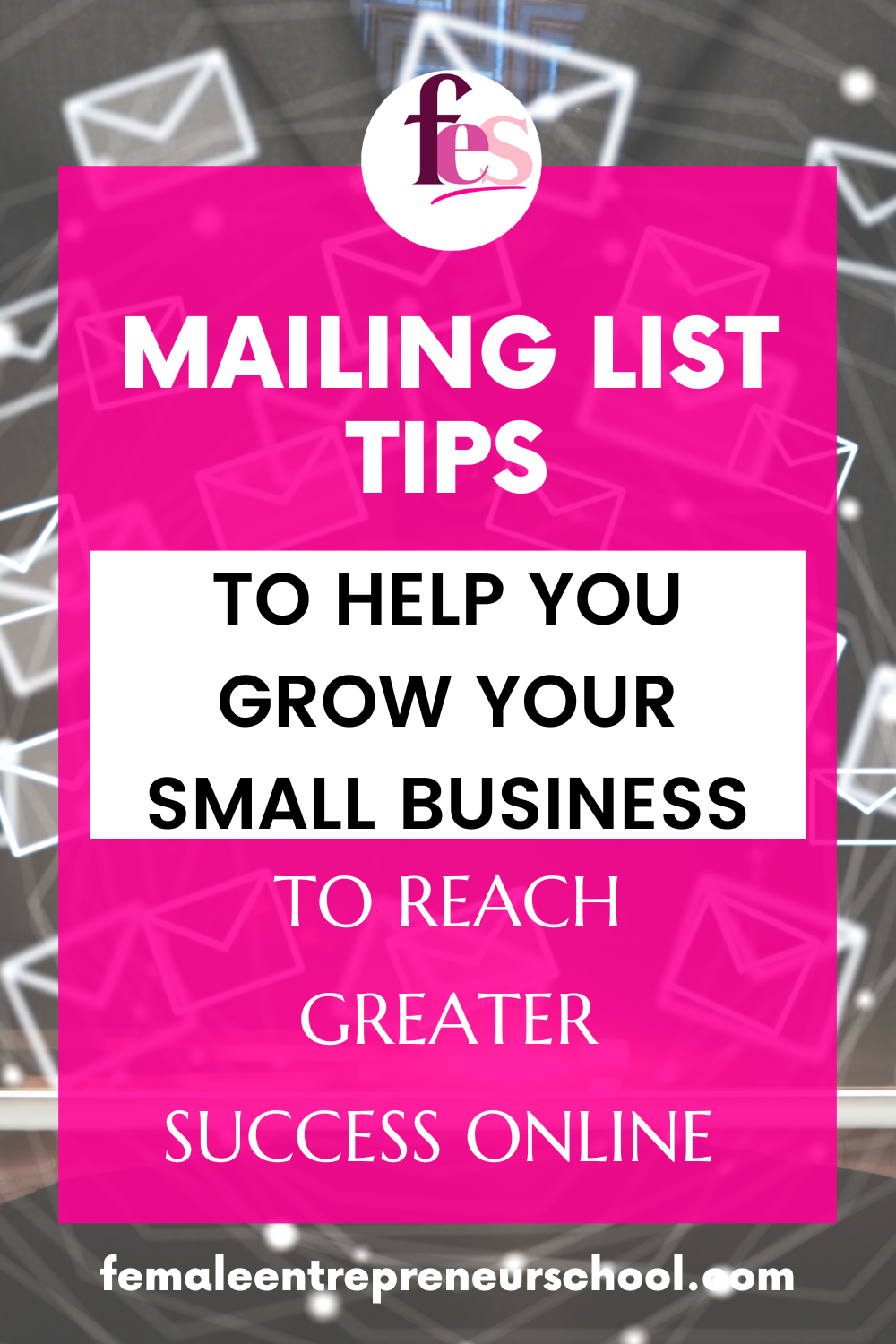 When you engage regularly with the people on your list. Send great emails that they want to open and read. Your subscribers will stick around. They'll also be much more likely to buy from you not just once, but time and time again.
Get your mailing list set up. Drive traffic to that list. And when you have ANYONE on your list, start sending regular newsletters out to those subscribers to turn them in to your long term, loyal tribe.
When you do this. Your list will become the most valuable asset you own in your business.
There's more to growing your mailing list out than I've shared in this post. I'll cover more mailing list tips in other blog posts. Be sure to stick around.
In the meantime – do you ever ask yourself "WILL I EVER BE SUCCESSFUL IN BUSINESS?" I know lots of female entrepreneurs question this regularly, because growing a successful business is HARD. However there are some key indicators that can help you identify whether you are closer to success than you think, and I've popped those key indicators inside a quick QUIZ you can take to determine where your business sits on a success-o-meter score right now. To take that quiz, and also get a free 33 page report full of tips to help you move to success more quickly click here and take my quiz.